sWADAH Build 20201002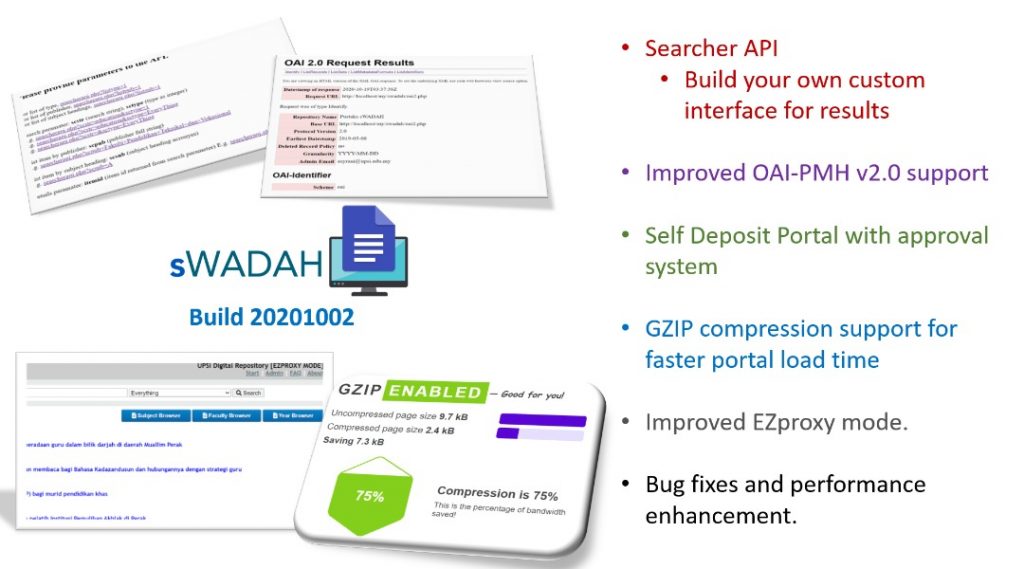 New releases ! Build 20201002 now available as an update or download a fresh copy.
New install:
Choose sWADAH_20201002_install if you want to start a new install alongside with sWADAH_20201002_database_install.
Updating:
First, do a full backup of your current sWADAH installation (including the database). Then, do another backup. After that, do another backup.
If you want to update, download two upgrade packages below. Extract the files/folders inside sWADAH_20201002_upgrade and overwrite the original files with a new ones. After that, apply sWADAH_20201002_database_upgrade too using database manager of your choice (preferably use MYSQLDUMP or phpmyadmin).
What's New:
– Searcher API 1.0 support.
– Improved OAI-PMH v2 support.
– Reorganization of config.php
– Self deposit portal and administration now available.
– Bug fixes, security fixes and more.
– Compliance with strict-transport-security, x-frame-options, referrer-policy, content-security-policy and x-content-type-options security headers.